DR. CARLOS CANSECO GONZÁLEZ
1921-2009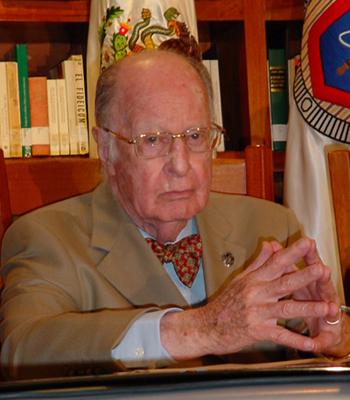 Dr. Canseco was born in Mexico City a March 17th of 1921. He bécame medical surgeon and partero at National Autonomous University of Mexico. He did two specialties, one in allergology at North Western University in Chicago Illinois and the other one in clinic inmunology at Pittsburg's University in Pennsylvania, both in the united states.
In 1949 he created the first Allergology Lesson in the Medicine FAculty of Nuevo Leon's Autonomous University and starting 1950 and until 1982 he was the leader of the allergology service from the universitary hospital at said institution. In 1970 he began his courses, first tutelars and then his postgrade in allergy and clinic inmunnology, going back in 1987 to the direction of the allergology service where he stood until 2000. During that period he organized the regional center for prevention and treatment of allergic diseases which is the most modern and better equiped in the country.

Among several institutions, he belonged to the Mexican Allergology Society, of which he was Founder and president, the American Allergology Academy, which he bécame Fellow since 1962, to the International Allergology Asociation and to the Latinamerican Society from which he was founder and president. In 1966 he returned to the National Medicine Academy and was member of the Mexican Society of History and Philosophy of the Medicine , consultor for the World's Health Organization (WHO) for allergic cronic diseases and member of honor for the brazilian, chilean, spanish and colombian societies of allergology.
He received several distinctions like Honoris Cause Doctorates from various universities in medicine as a recognition to his humanism and contribution to the Medical Science development. In 2002 the Panamerican's Health Organization gave him the title of Public Health Hero of America. In 2004 The Honorable Senator Chamber of the Mexican Congress gave him the "Belisario Dominguez" medal.

He occupied different charges and did numerous activities, from which we mention:
In 1953 he was chief of Medical Services at the IMSS Hospital in Nuevo Leon and Tamaulipas; from 1958 to 1970 he was comentarist and conductor of TV shows; between 1967 an 1969 he organized and presided the Professional Futbol team "Tigres" of UANL. During the years 1982 and 1983 he was chief of the Public Health services in Nuevo Leon state.
He realized researchs in the allergology field. As a result of that he wrote 59 scientific articles published in specialized magazines, national and foreign.